Tiny format with giant luminosity make EA4 Pioneer of NiteCore an unusual LED flashlight. Can the compact lighting but also outside the manufacturer's instructions prove?
At just 11,7cm length is the EA4 Pioneer LED flashlight of NiteCore more than just compact. She disappears formally in his fist and even fits easily into pockets. The diameter of 4cm ensures that the lamp is still pleasant in the hand and has a good grip. With batteries, it brings the Pioneer to about 200g, and is therefore also suitable for longer trips.
A peak output of 860 lumens, and a beam length of 283m should satisfy even the highest demands. Besides their Performance data the NiteCore EA4 Pioneer also leaves the delivery a positive impression. These include a set of AA batteries, a replacement O-ring, straps and a black bag with integrated belt loop . The latter can be easily installed, open and close and can be attached to backpacks or tents optionally example. Outdoor enthusiasts will enjoy the protection from water up to 2m depth to IPX-8 forward standard.
Functions
For switching on and off and to switch between modes is an inconspicuous side desk. This almost vanishingly small round button will change to pressure between the individual functions. There are two main modes available:
Daily Fashion: Here again are some choices with different brightness are available: high (860 lumens), Medium, Low and Ultra Low (65 lumen).
Search / Turbo Mode
Added to the moment light (light is only as long as the button is pressed, Location Beacon, Strobe (fast flash) and SOS. As security against accidental switching serve Lockout and Standby Mode.
Practical: The current battery level is indicated by a flashing. The frequency is the faster the lower the residual energy.
Criticisms
As versatile the NiteCore EA4 Pioneer is also a few small point deduction, there must be at this point yet. First, the LED flashlight can be operated only over a button. May sound practical, but requires an exact to the second switch and thereby also the memorization of possibilities. At least initially, should at all times be at hand here so the manual. With thicker gloves targeted operation is almost impossible – the small switch is simply too small.
In addition, there are also at the extreme luminosity any complaints, but super brightness is almost a luxury problem: Despite weak batteries actually this super bright flashlight brings the EA4 Pioneer to an incredible 860 lumens. In the weakest mode but they are only dimmed to 65 lumens – eg for map reading is still clearly too bright.
NiteCore EA4 Pioneer Conclusion
The design may not be to everyone's taste but we found the innovative form is in real looker. In the performance, the NiteCore EA4 Pioneer before any competitor has to hide but is for the operation of the functions needed some practice.  Apart from small prints this LED flashlight with a price of around 70 € definitely recommended.
Gallery
Nitecore EA4 Explorer 960 lumen LED Torch
Source: www.brightnite.com.au
NITECORE Explorer EA4 Pioneer AA LED Flashlight, 860 Max …
Source: www.knifecenter.com
NITECORE Explorer EA4 Pioneer AA LED Flashlight, 860 Max …
Source: www.knifecenter.com
Buy Nitecore PVD 40mm Crenulated bezel Attack Head Black …
Source: www.bazaargadgets.com
Buy Nitecore 40MM Crenellated Attack Head For SRT7 EA4 P25 …
Source: www.bazaargadgets.com
NITECORE Explorer EA4 Pioneer AA LED Flashlight, 860 Max …
Source: www.knifecenter.com
EA4-Beam-Low – The Outdoor Nerd
Source: theoutdoornerd.com
ReviewTheLight: Nitecore EA41 Pioneer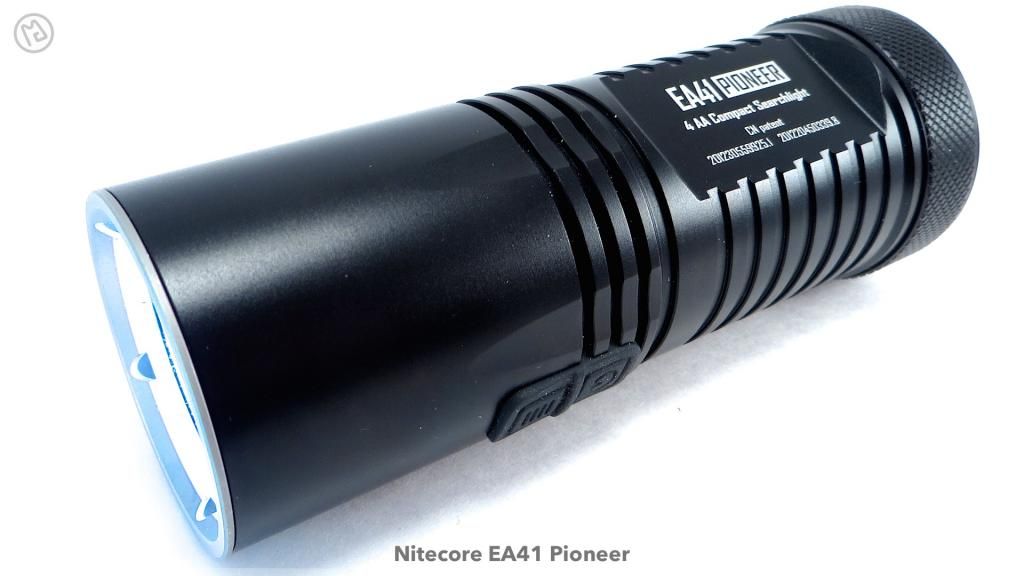 Source: www.taschenlampen-forum.de
Nitecore EA4 Explorer 960 lumen LED Torch
Source: www.brightnite.com.au
$36.96 Authentic Nitecore P05 LED Flashlight
Source: www.fasttech.com
$28.00 Authentic Nitecore T2S R2 3-Mode 50-Lumen LED …
Source: www.fasttech.com
$104.95 Authentic Nitecore TM06S LED Flashlight
Source: www.fasttech.com
Nitecore Gun Mount GM04/25MM
Source: www.nitecore.co.uk
$36.96 Authentic Nitecore P05 LED Flashlight
Source: www.fasttech.com
Nitecore EA4 Pioneer review (cool white)
Source: www.candlepowerforums.com
[Review] NITECORE SRT7 (XM-L2 T6 / 5mm RGB LEDs, 1x 18650 …
Source: budgetlightforum.com
[Review] NITECORE EAX Hammer (2x XM-L2 T6 CW, 8x AA)
Source: www.candlepowerforums.com
Nitecore Sense Mini, CR & AA
Source: www.doovi.com
Køb Nitecore NDF40 LED Lommelygte Diffuser 40MM for EA4 …
Source: www.bazaargadgets.com
LED Flashlight Collection Taschenlampe
Source: www.niemegker.de